The 32nd Signal Battalion's Mission:
To install, operate, and maintain reliable tactical signal communications for V Corps Headquarters and to the V Corps' major subordinate commands for command and control, fire and manuever, and administration and logistics.
Organization of the Battalion:
Six companies make up the organization of the 32d Signal Battalion (Corps). These include: Headquarters and Headquarters Company; Company A, Company B, and the 201st Signal Company, all command operations companies; Company C, a command radio relay and cable company; and Company D, a command artillery radio relay company.
The mission of Headquarters and Headquarters Company is to provide planning, coordination, and staff supervision for all of the operation's, training, administration, maintenance and supply function's within the battalion.
The three command operations companies (A, B, and 201st) provide tactical communications facilities for Corps Headquarters at main, alternate, and SUPCOM respectively.
Multichannel communications systems from echelons of V Corps Headquarters to headquarters of its major subordinate commands are provided by Company C, the command radio relay and cable company.
Company D, the command artillery radio relay company, provides multichannel communications systems between V Corps Headquarters and the V Corps artillery groups as well as the corps tactical command post.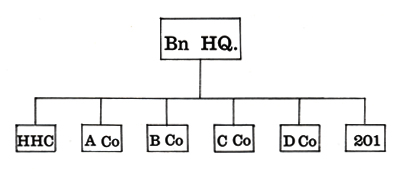 32nd Sig Bn Organization, 1980